Diversity at ELSIS
Posted by

Categories

Blog

Date

February 24, 2020
Diversity at ELSIS
By Ian McArthur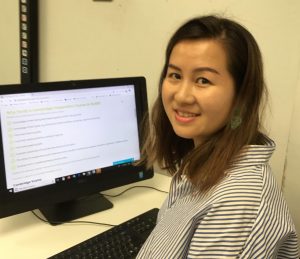 Cathy Li and Bonnie Tang are great examples of the diversity in the teaching staff at ELSIS. Both say their backgrounds give them special insight into the problems English learners must overcome.
Cathy, who is Hong Kong-born, worked briefly in marketing in Hong Kong before switching to English teaching there and in Australia, a career where she says she now feels more at home. At ELSIS, she says using English outside the classroom is just as important as in it. She says ELSIS students gain from outings ELSIS has from time to time, such as to Sculpture by the Sea or the annual Halloween Party. "My message is to be open-minded and make new friends, especially from Australia. Accept a new culture." Cathy says she realized early on the importance of "experiencing" English when encountering it as a second language. "I had a very good teacher who encouraged me to listen to TV, songs, and movies," she said. "My teacher used to say you learn English not from task work but from really living the experience. And my father used to tell me if you speak in English, you think in English."
---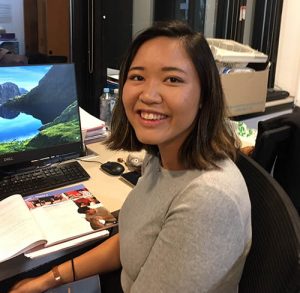 Sydney-born Bonnie spent her childhood in Hong Kong where she went to primary school and her first year of high school. She's been in Sydney since her second year of high school and has completed a Masterof Teaching English as a Second or Foreign Language (TESOL) at University of Western Sydney.
Bonnie speaks Cantonese (the main language of Hong Kong), Japanese and English, and says her example as a bilingual person teaching English helps her inspire confidence in her students.
"I enjoy when I am teaching international students. I want to use my experience to help them speak English. Because I have been in Sydney for 10 years and speak English on a daily basis, I am able to use it.
"For example, I could see an improvement in a student I met back in my General English class and he has been making real progress. In the past two or three months in PET (Preliminary English Test) he recently wrote a practice email to me and I was so proud of him."
Thanks for the inspiration, Cathy and Bonnie!
About the author.
Ian McArthur teaches English for Academic Purposes and General English at ELSIS. He is also an experienced journalist who has worked in Japan and Australia. He is the author of several bilingual books about English and Japanese colloquial expressions. He first taught English in the 1980s to Vietnamese and Laotian refugees in Brisbane. He has also taught Japanese language at universities in Sydney and has supervised students writing their Masters and Doctoral theses. He has a website at henryblack.com.au.