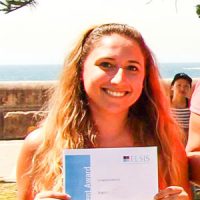 Irene S
General English
" Everything is well structured and organised, the staff is lovely and cooperative and you have the opportunity to meet lots of people from all over the world, to learn more about their different cultures and traditions. Moreover, you can meet new friends who you'll never forget. "

INTERVIEW QUESTIONS
Why did you decide to study English at ELSIS?
My Agent from Australian board Agency suggested this school to me because it was proposing a really good offer.
How would you describe the teaching staff at ELSIS?
The staff is amazing, every single person is professional but at the same time extremely friendly and helpful. They also provide students extra school supplies and make lessons really interesting.
How long have you been studying at ELSIS so far?
I've been studying at ELSIS for 5 months so far.
Did your English improve during your time at ELSIS?
During these 5 months my English has improved a lot, now I'm feeling more confident and I'm aware of the fact that I'm still improving, day by day.
Describe what you like about studying at ELSIS?
Everything is well structured and organised, the staff is lovely and cooperative and you have the opportunity to meet lots of people from all over the world, to learn more about their different cultures and traditions. Moreover, you can meet new friends who you'll never forget.
Describe what you like about Sydney?
Sydney is a fun and vibrant city, with beautiful beaches and buildings, such well looked after gardens, perfect for chilling out. I love its cafés and markets. People are extremely friendly and the sunset is breathtaking.
What are some of the activities that you like to do in your free time?
This country has so many things to see that every week I try to visit new places, to have different experiences like for example, surfing. Furthermore, I love going to the Royal National Park for some excursions. Sometimes I just go around Darling Harbour because the city often organises different kinds of festivals which are very interesting and fun.
What advice would you give to a friend who wants to study in Australia?
In my opinion, if you want to learn a foreign language really well, I think that the best way to do it is studying in that country; you will improve your skills faster and that country will open up more opportunities for you. Moreover, this amazing experience will make you meet new friends with whom you can share your knowledge and life. It will help you discover more about yourself and what you really want to do in your future.