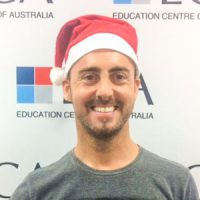 Paolo P
General English
" Highly skilled, easy to communicate with many different teaching methods. I definitely improved my listening and speaking skills. Learning and having fun with students from different countries. "

INTERVIEW QUESTIONS
Why did you decide to study English at ELSIS?
To change my life.
How would you describe the teaching staff at ELSIS?
Highly skilled, easy to communicate with many different teaching methods.
How long have you been studying at ELSIS so far?
6 weeks.
Did your English improve during your time at ELSIS?
I definitely improved my listening and speaking skills
Describe what you like about studying at ELSIS?
Learning and having fun with students from different countries
Describe what you like about Sydney?
I love the green spaces around the city. People are friendly and I like Sydney also because there are a lot of opportunities.
What are some of the activities that you like to do in your free time?
Cycling and surfing.
What advice would you give to a friend who wants to study in Australia?
Be brave and try, you gonna love it!