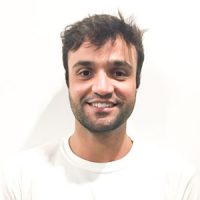 Leonardo A L
General English
" It is an amazing experience, you improve your English and get the knowledge about other countries and cultures!! "
INTERVIEW QUESTIONS
Why did you decide to study English at ELSIS?
Because my agency recommended ELSIS as a good school and because I was told about ELSIS in Sydney and Melbourne.
How would you describe the teaching staff at ELSIS?
They are great teachers! Always ready to help.
How long have you been studying at ELSIS so far?
4 weeks at the moment.
Did your English improve during your time at ELSIS?
Yes, but I need to improve my grammar!
Describe what you like about studying at ELSIS?
The rules, Everyone follows the rules.
Describe what you like about Brisbane?
Everything at the moment. This is the cleanest big city I have been to!!
What are some of the activities that you like to do in your free time?
I go to the beach, cycle, go fishing, walk around the city, etc..
What advice would you give to a friend who wants to study in Australia?
It is an amazing experience, you improve your English and get the knowledge about other countries and cultures!!