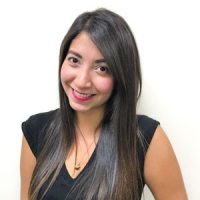 Leidy I
CAE + IELTS
" I have been lucky to have the best teachers during my English learning process. They are very helpful and professional. "
Discover Leidy's experience at ELSIS…
Why did you decide to study English at ELSIS?
My agent recommended it because it's great value for money and high quality. Based on my experience I made my best decision coming here.
How would you describe the teaching staff at ELSIS?
I have been lucky to have the best teachers during my English learning process. They are very helpful and professional.
How long have you been studying at ELSIS so far?
24 weeks.
Did your English improve during your time at ELSIS?
Actually, I think my English has improved a lot step by step. Mainly due to excellent teachers and useful methods of learning.
Describe what you like about studying at ELSIS?
I like that there are students from many different countries in the world and my CAE class is great.
Describe what you like about Melbourne?
It's a beautiful city full of life and opportunities.
What advice would you give to a friend who wants to study in Australia?
I would like to recommend to students to study in Australia because you can get many experiences in a multicultural environment. It's really worthy to do that!! Don't miss the chance of improving your English and learning about the Australian Culture!