Dr Ian's English clinic | Speaking English in Australia – Where did "selfie" come from?
Posted by

Categories

News

Date

January 5, 2018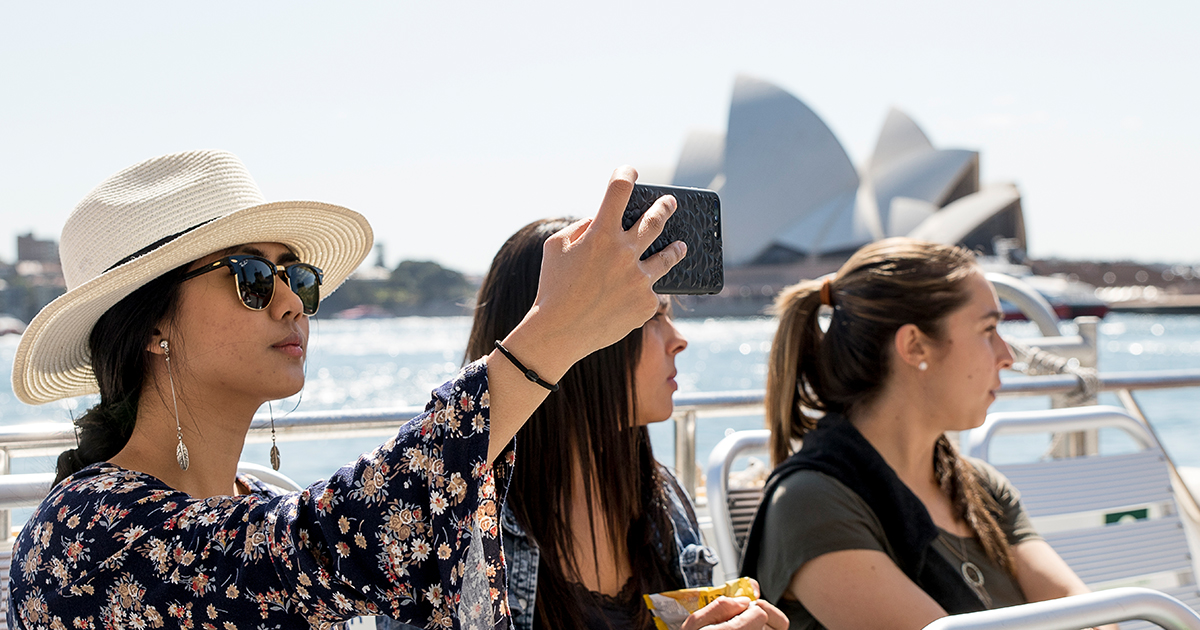 Everyone likes taking a selfie. According to Wikipedia, "The first known use of the word selfie in any paper or electronic medium appeared in an Australian internet forum in 2002". It was a post by an Australian called Nathan Hope in a science forum operated by the Australian Broadcasting Corporation (ABC). So "selfie" has Australian origins. The word quickly spread via social media and in 2013 it became the Oxford Dictionary's word-of-the-year. So "selfie" was originally an Australian word. And did you also know that in his post on the site, Nathan called himself "Hopey".
Variations of the English language
Every English-speaking country has its own variant of the language. So what does this tell us about Australians and how they speak English? Australians love to put "ie" or "ey" on the end of many words. That's why in Australia, you can say "I got a box of chockies for a Chrissie pressie" and most people will understand you. The translation is: "I got a box of chocolates for a Christmas present". That's because Australians like to shorten many words and put "ie" on the end of them. They also invent new words by just putting the "ie" on the end of already existing words.
Let's look at some of these words.
If you live in hot parts of Australia during summer, you'll know all about "mozzies". What's a mozzie? It's a mosquito! For example: "The mozzies are bad tonight."
OK, so maybe you can guess what "lippie" is. No, it's not lip cream. It's lipstick. For example: "The lippie's in my handback."
How about this one? "You should eat your vegies.". That's easy. Vegetables.
But this one might be more difficult. "Bikkie". It's a "biscuit", also known as a "cookie" in American English.
Here's a short list to help you through your life in Australia.
Barbie – barbecue: "Let's have a barbie on the weekend."
Brissie (Brizzie) – Brisbane, the capital of Queensland: "ELSIS has a language school in Brissie."
Ciggie – cigarette: "Mick smokes ten ciggies a day."
Cockie – cockroach: "There's a cockie in my kitchen!!!"
Coldie – a cold beer: "Let's have a few coldies at the pub."
Footy – football: "Did you see the footy last night?"
Onesie – a one-piece loose-fitting casual jumpsuit for adults. (ELSIS General English teacher, Natasha Gallo loves hers. "Hi Natasha. You look great in your onesie!".)
Postie – a postman or postwoman: "The postie brought my electricity bill yesterday."
Pollie – politician: "Canberra's full of pollies when parliament is in session."
Rellie – relative: "Every year I go to Brissie to visit the rellies."
Sickie – a day of sick leave, usually taken without a good medical reason. "It must be Monday. John's taking a sickie."
Sunnies – sunglasses: "Hi Natasha. You look great in your new sunnies."
Uni – university: "Gurpreet's going to study IT at Victoria Uni."
If you use these words, your English will seem much more friendly and less formal. So feel free to use them with your friends at a pub, bar or Chrissie party. These words will help you feel at home in Australia. (But don't use them when you're writing an academic essay.)
It's all Aussie English. And there's another "ie" word. An Aussie is an Australian.