Dr Ian's English Clinic – How to have a Roman Holiday
Posted by

Categories

News

Date

March 27, 2018
Do you need a reason for learning English? "If you travel, you'll have to use English."
I was in Italy in February (2018) to give a presentation at a symposium organised by the Japanese Department at Sapienza University in Rome. One of the things that impressed me while in Italy was how much English is now a global language.
Even though most of the audience at the symposium were either Italian or Japanese, I was asked to give my presentation in English. After the presentation, there was a question-and-answer session which was also in English. On the day after the symposium, some Italian students from the department kindly showed me and my wife around some of Rome's historic sites, including the old Jewish quarter and the Colosseum. Their English was excellent. They explained to me that English is important because they have to read English-language textbooks for their studies.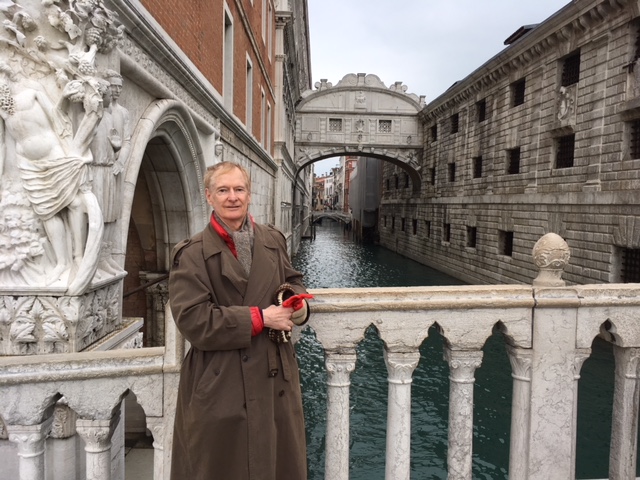 Later, when I travelled to Florence and Venice, I noticed the same thing. Everyone who works at hotels, and the famous museums containing great works by artists such as Michelangelo or Caravaggio, also understands a certain amount of English. But it is not because every tourist comes from an English-speaking country. Many tourists in Italy at that time of year were from South Korea, Japan, China or other European countries where English is not the first language. With the exception of the Chinese, who mostly moved in groups with Chinese-speaking guides, many of these tourists could communicate with the Italians in basic English. Even people from different countries waiting in the queues to enter the Vatican Museum in Rome or the Uffizi Gallery in Florence spoke to each other in English. Mostly they were passing on information about restaurants, bargain buys for souvenirs or the history of Italy and Italian art.
This made me wonder if perhaps this kind of global English is not too hard to learn compared to other languages these days because so many people need it to travel. For example, everyone needs to ask "how much" something is in a shop when buying souvenirs. I did that when I bought my carving of Pinocchio with his long nose in the shop in Florence, and when I bought a delicious pistachio-and-cream gelato in Venice. Or probably sometime during the day, we need to ask "Where is the toilet?". I said that a lot! And we all have to point to something on a menu and say "Could I have this one please". My best meal was the spaghetti with anchovy paste and glazed onion in a Florence restaurant. Delicious! I tried it because the waiter told me about it in English. This takes the English to a higher, more complex level, and I was pleased that my Italian waiter was able to do that.
And there's one more reason for learning English. I travelled to and from Italy on a Middle-Eastern airline and all the announcements at airports and on the plane were in at least two languages, one of them always English. In one case (the Venice-to-Dubai flight) there was a medical emergency with one of the passengers, which was explained to all the passengers in English because it was an important reason for delaying our departure. We were told that airline staff had to take the sick passenger off the plane and remove his luggage from the cargo compartment before we could take off. If I had not understood English, Italian or Arabic, I would have been left wondering why the plane was late.
And my final reason for learning English is this…I was really pleased that I tried to learn even a little Italian before I went to Italy because my Italian hosts appreciated my efforts to speak their language. My use of Italian, no matter how bad, brought big smiles to their faces. Knowing English makes it easier to learn Italian because a lot of English-language words come from Latin, and Latin is what the early Romans spoke. So English and Italian share some common origins.
Even if English is not your first language, it is a very useful second language. Because travel broadens the mind, and if you travel, you'll have to use English.